EstateName.com – To Complete Her Holiday Wrapping
Shop unique wrapping paper styles to embellish your gifts—from whimsical patterns to personalized designs that will delight any recipient.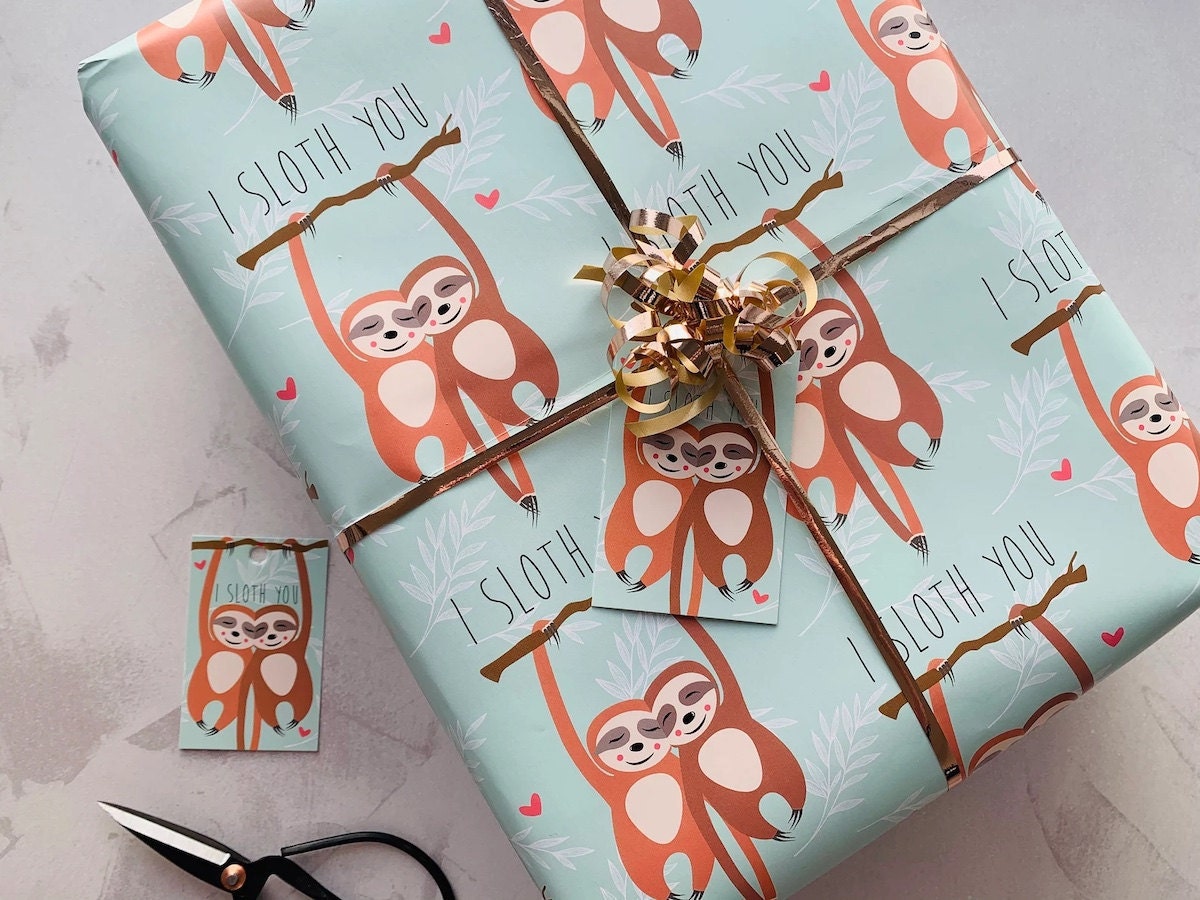 It's true what they say: It's better to give than to receive. There's nothing quite like watching someone's face light up when they open the perfect gift. And if you're giving something special, why not make the wrapping paper special, too? Whether you're gifting for a birthday, wedding, anniversary, holiday, or other special occasion, a beautifully decorated wrapping only adds to the anticipation.
We've rounded up the best wrapping paper on Etsy for any occasion and celebration, including whimsical designs, eye-catching patterns, and kid-friendly options as unique as your recipient. Some even have matching gift cards to create a beautiful presentation. Want an even more personal touch? There are many custom wrapping paper designs that can be personalized with your recipient's name, photo, or a special message. They'll treasure this gift wrap almost as much as the actual gift!
See our top picks for the best wrapping paper:
Custom Wrapping Paper | Birthday Wrapping Paper | Cool Wrapping Paper | Flower Wrapping Paper | Brown Wrapping Paper | Thick Wrapping Paper
Pro wrapping tip:
These artisanal wrapping paper styles are typically thicker than the generic rolls you'll find at the local drug store. Most commercial wrapping paper comes in weights of 60 to 80 gsm (which stands for "grams per square meter"). Those that measure 80 to 120 gsm will feel thicker and are less prone to accidental rips.
Custom wrapping paper
Want to make your gift even more special? Add their name, photo, or a message to your gift wrap with these custom wrapping paper designs. You can even add a pet's name or photo. (Cats and dogs like gifts, too!)
1. Custom face wrapping paper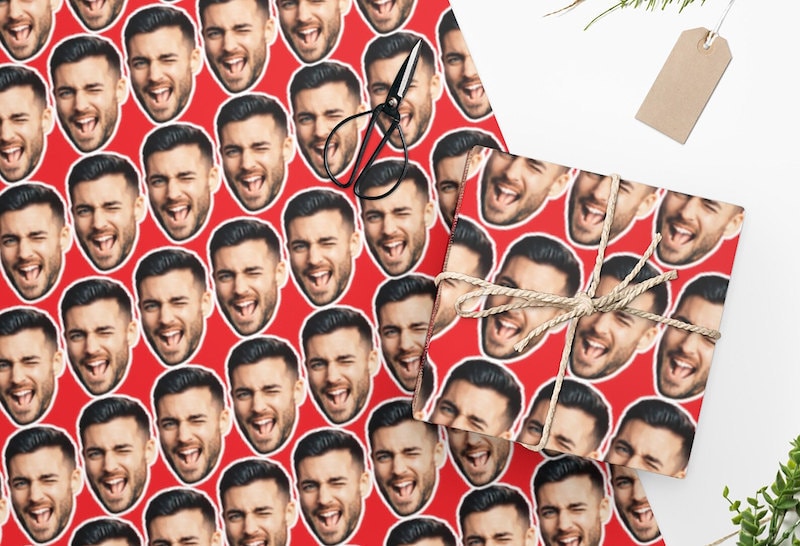 SHOP: Custom face wrapping paper from Socks and All, from $14
Here's an easy way to make them smile: Put their face on the wrapping paper! You can order this custom wrapping paper with your favorite picture of your recipient (or pets!). You can choose from about 30 different background colors, and the sheets of thick paper are available in two different sizes of up to 2 x 5 feet, in case you need to wrap a larger gift. They'll definitely know this gift is theirs!
2. Funny birthday wrapping paper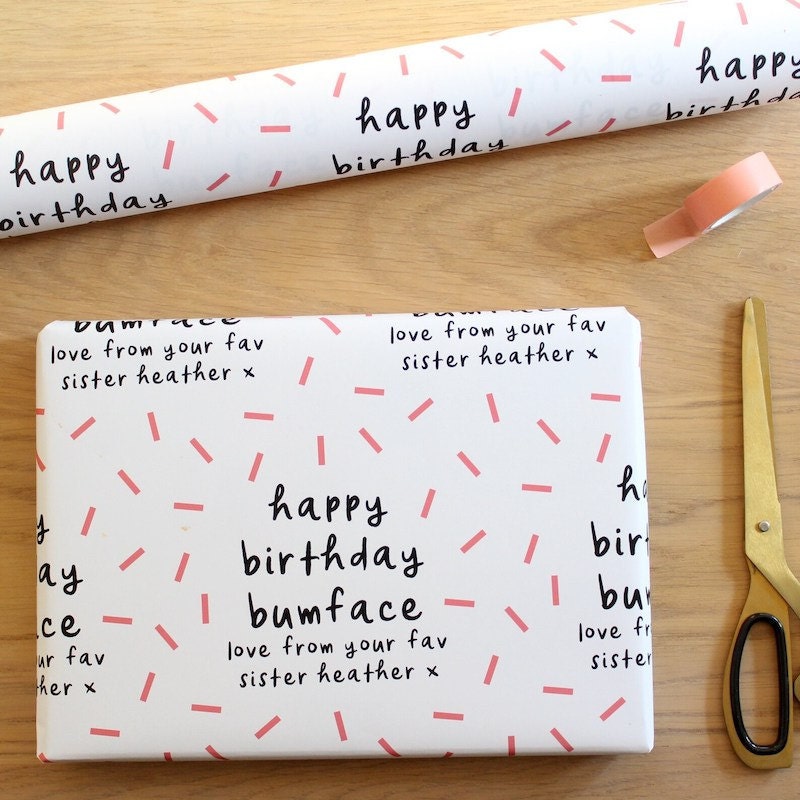 SHOP: Funny personalized birthday wrapping paper from Heather Alstead Design, from $8
Who needs a card when you can say it all on the wrapping paper? Add a cheeky personalized birthday message for that special friend or family member who loves to joke around, with this thick wrapping paper that comes in about 20 x 28 inch sheets. The seller also offers a wide selection of other custom wrapping paper designs for birthdays, weddings, baby showers, and holidays.
3. Personalized holiday wrapping paper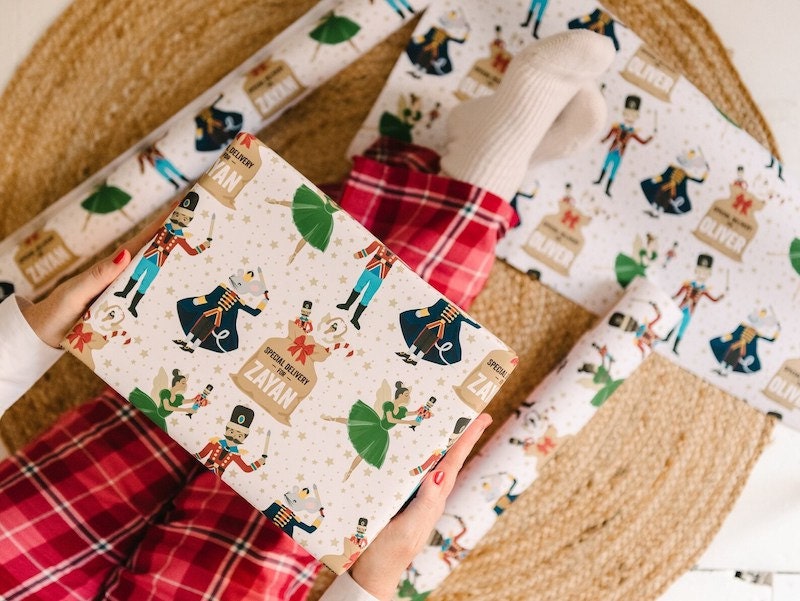 SHOP: Personalized Nutcracker wrapping paper from Abigail Warner Studio, from $9
Make a holiday gift extra special with this thick Nutcracker-themed paper that features their name right on the wrapping. You can also choose the skin tone of the characters for an added personalized touch. The paper comes in sheets of about 24 x 39 inches.
Birthday wrapping paper
Turning one year older deserves a celebration! These cute and colorful birthday wrapping paper designs are sure to brighten their day—even before they see what's inside.
4. Sloth wrapping paper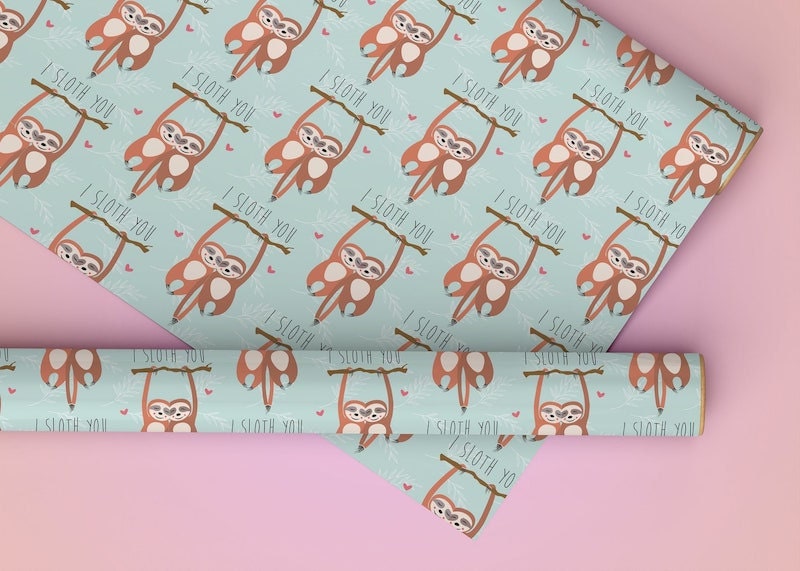 SHOP: I Sloth You Wrapping Paper from Dreamlike Studios, from $3
What better way to celebrate someone you care about than with a couple of adorable, loving sloths? This charming wrapping paper comes in about 20 x 28 inch sheets of thick paper, and you can also pick up matching gift tags for an extra special touch.
5. Astronaut birthday paper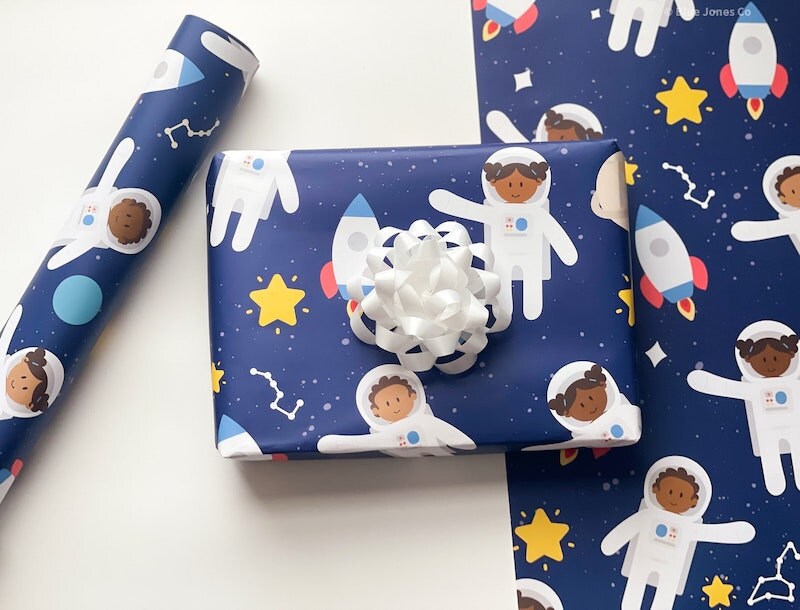 SHOP: Astronaut wrapping paper from Blue Jones Co., from $14
Encourage any birthday boy or girl to let their dreams soar with this cute children's wrapping paper inspired by African American astronauts. You can choose from a roll of either three or six sheets, which measure 20 x 29 inches each.
Cool wrapping paper
With whimsical designs and fun patterns, your gift is sure to stand out at the party—even in a crowd of presents—with this cool wrapping paper.
6. Cheeseburger wrapping paper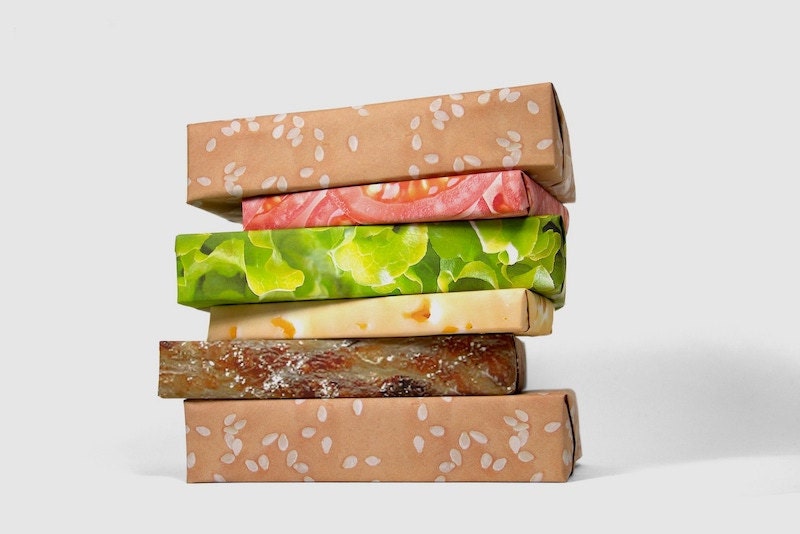 SHOP: Cheeseburger wrapping paper from GiftCouturePaper, $25
Cheeseburger, anyone? If you're giving a stack of presents, this may be the cutest way to do it. This set comes with six 18 x 24 inch sheets (two "bun" sheets, one "cheese," one "tomato," one "lettuce," and one "burger").
7. Lightning bolt wrapping paper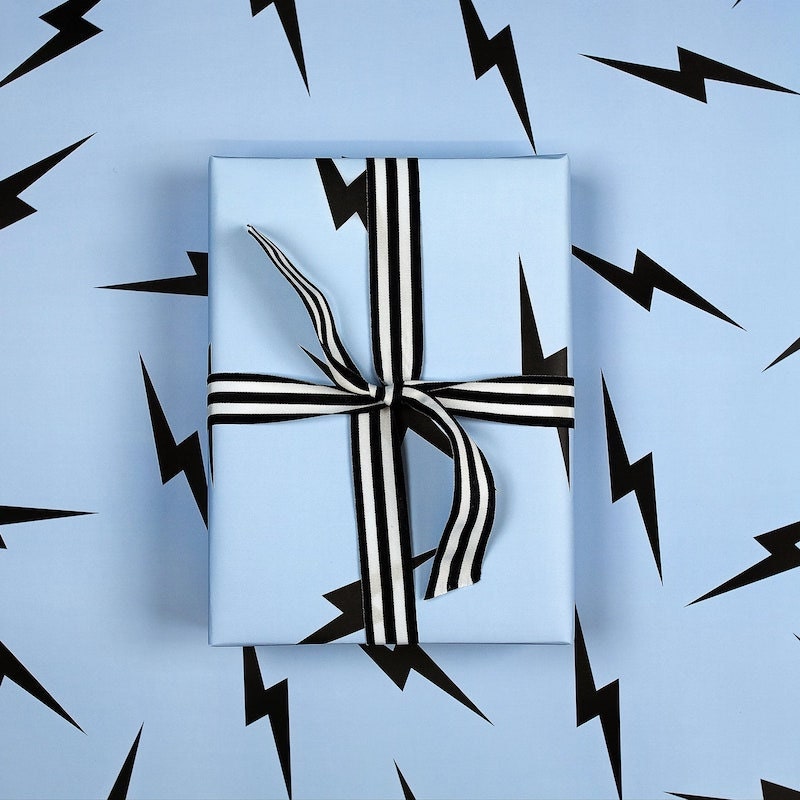 SHOP: Blue lightning bolt wrapping paper from Mock Up Designs, $3
Any gift looks more amazing in this beautiful, thick periwinkle wrapping paper covered in lightning bolts. This striking design comes in about 20 x 28 inch sheets. Want to complete the look? You can also pick up the matching tags and ribbon.
8. Metallic hedgehog wrapping paper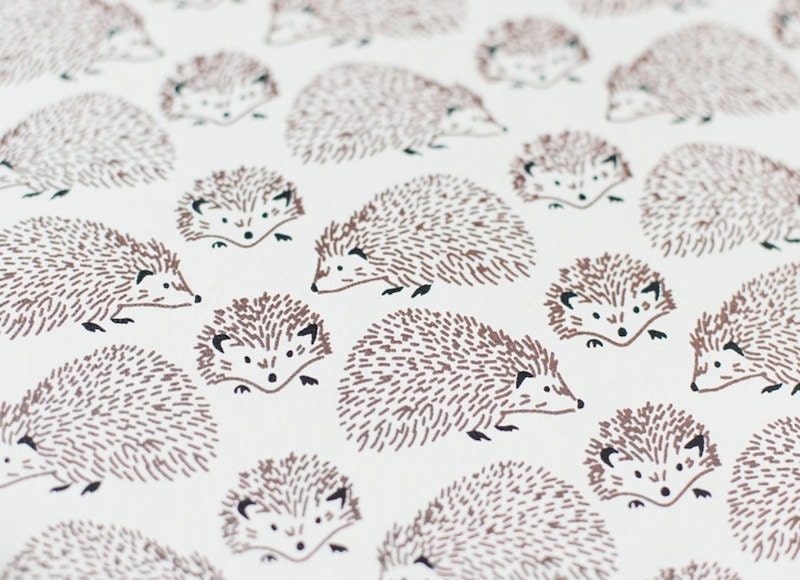 SHOP: Metallic hedgehog wrapping paper from Anastasia Marie Shop, $14
Not only is this hedgehog wrapping paper cute, but the print has a cool metallic finish. Bonus: The paper, which comes in a set of two 21 x 29 inch sheets, is also sustainable. It's made out of recycled cotton fiber.
Flower wrapping paper
Whether you're giving a birthday gift, a Mother's Day gift, or a just thoughtful present for someone who needs a little pick-me-up, flower wrapping paper is a great way to add a beautiful flourish to any gift.
9. Watercolor floral wrapping paper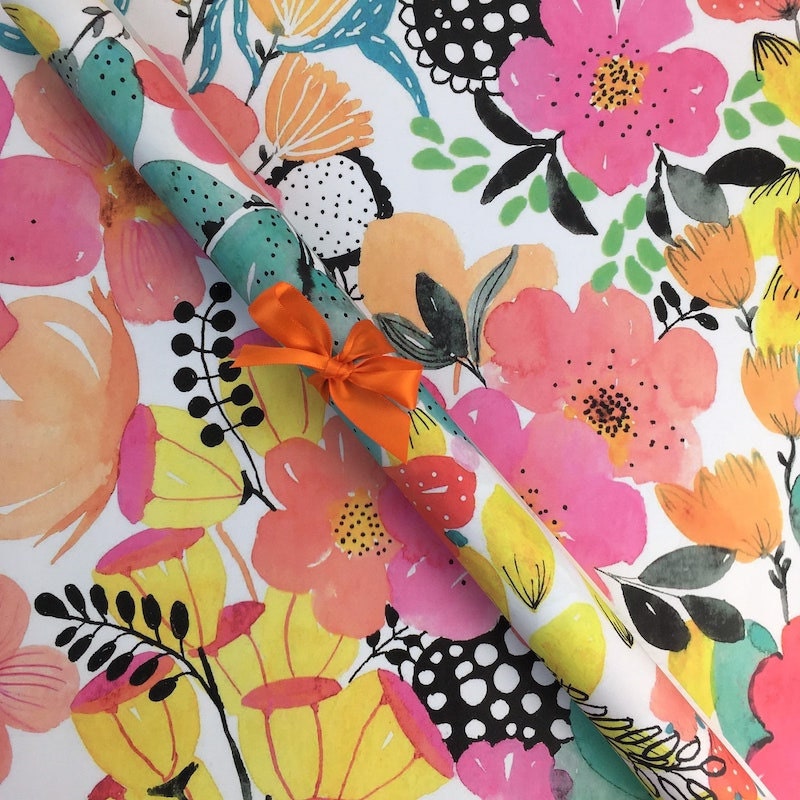 SHOP: Watercolor floral wrapping paper from Nadege Honey Design, from $4
Dress up your gift with this cheerful floral wrapping paper that is sure to brighten their day. The thick paper, which comes in 17 x 24 inch sheets, is printed with hand-painted watercolor flowers. The seller also designs colorful jewelry and notebooks if you're looking for something special to put inside.
10. Flora and fauna wrapping paper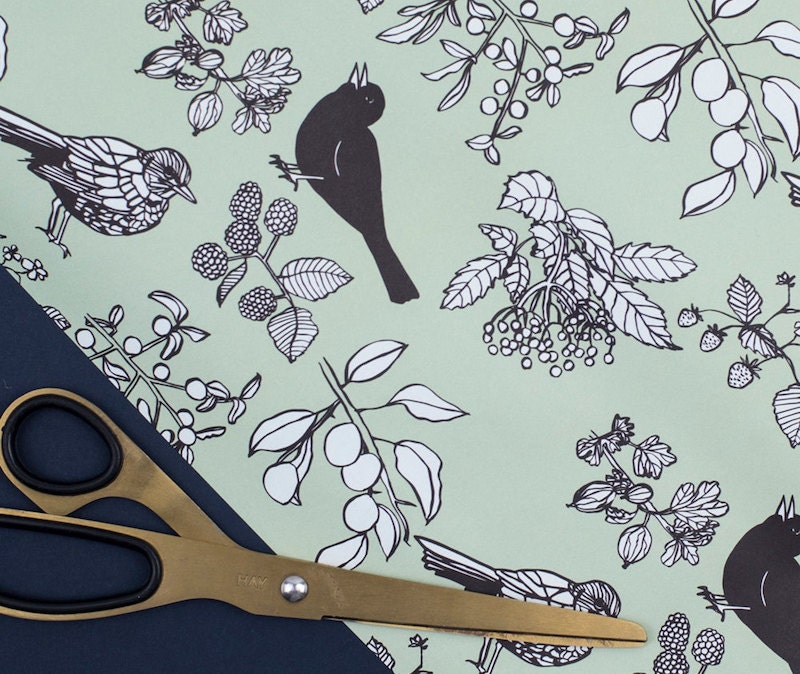 SHOP: Birds and berries wrapping paper from AnnasDrawingRoom, $6
Bird lovers will adore this charming botanical print, featuring plants, berries, flowers and some cute feathered friends. The wrapping, which is printed on recycled paper with vegetable-based ink, comes in a set of two 20 x 28 inch sheets in either mint green or pink. (Or go for one of each!)
11. Botanical wrapping paper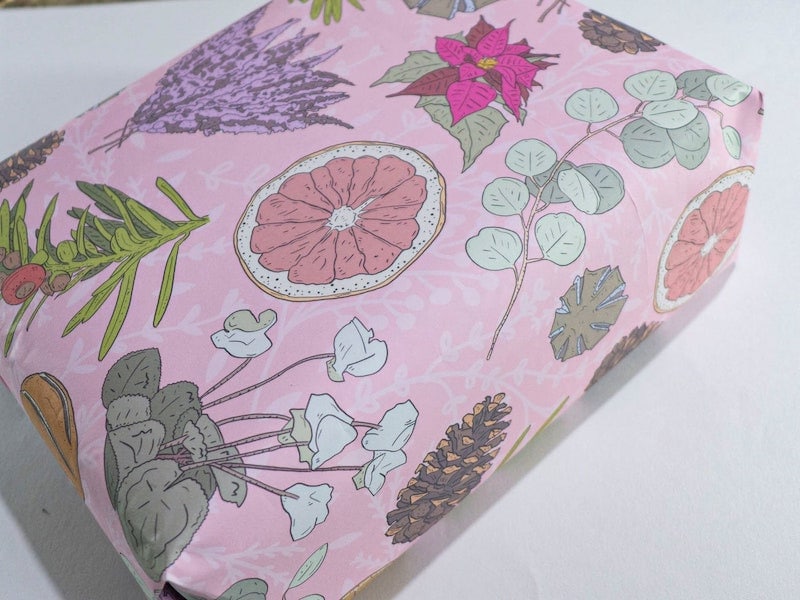 SHOP: Winter botanical wrapping paper from Cuttle Prints, from $4
Although this wrapping paper is decked out with gorgeous hand-drawn winter botanicals—including cyclamen blooms, poinsettia, eucalyptus, pine cones, and grapefruit—you can use the colorful print year round to add a beautiful touch to any kind of gift. The thick sheets, which are printed with eco-friendly materials, measure about 20 x 28 inches. You can also pick up matching tags to complete the look.
Brown wrapping paper
There's something so rustic and chic about brown kraft paper, which comes from the German word for "strong." And these brown wrapping paper designs offer a fresh take on this classic paper parcel. Dress it up with a fabric bow—or go with twine and flowers and twigs for a boho look.
12. Patterned kraft wrapping paper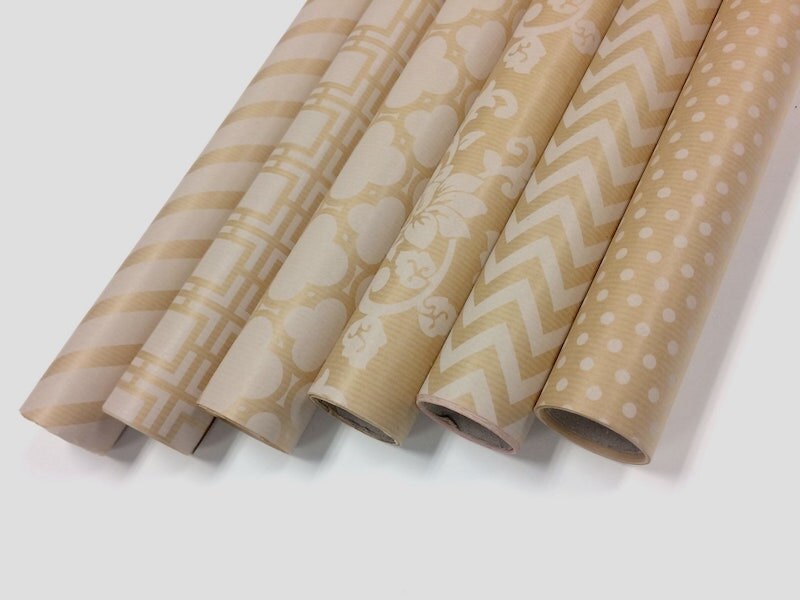 SHOP: Patterned kraft wrapping paper from Note Card Cafe, from $19
Put a playful spin on traditional brown kraft wrapping paper with this gift wrap set. With subtle white stripes, chevrons, polka dots, these rolls work for any occasion, including wedding wrapping paper and baby shower wrapping paper. Plus, it comes with six 30 x 120 rolls, perfect for wrapping larger gifts. Want to add a little more color? Check out the multi-colored version.
13. Personalized wedding wrapping paper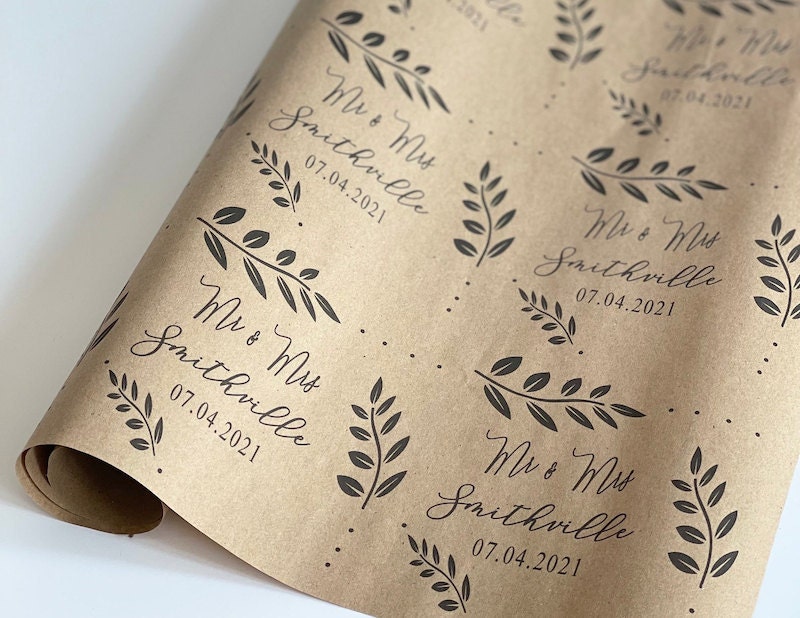 SHOP: Personalized kraft wedding wrapping paper from Red Barn Paper Co., from $18
Make their big day even more special by wrapping your wedding gifts in this beautiful brown kraft wrapping paper, personalized with the happy couple's name and wedding date. Have a big gift? You can order in an uncut roll of three to ten sheets, measuring 20 x 30 inches each.
Thick wrapping paper
These pretty thick wrapping paper designs have a nice, premium feel and are less prone to accidental rips before your recipient has a chance to open their gift. (No peeking!)
14. Squirrel wrapping paper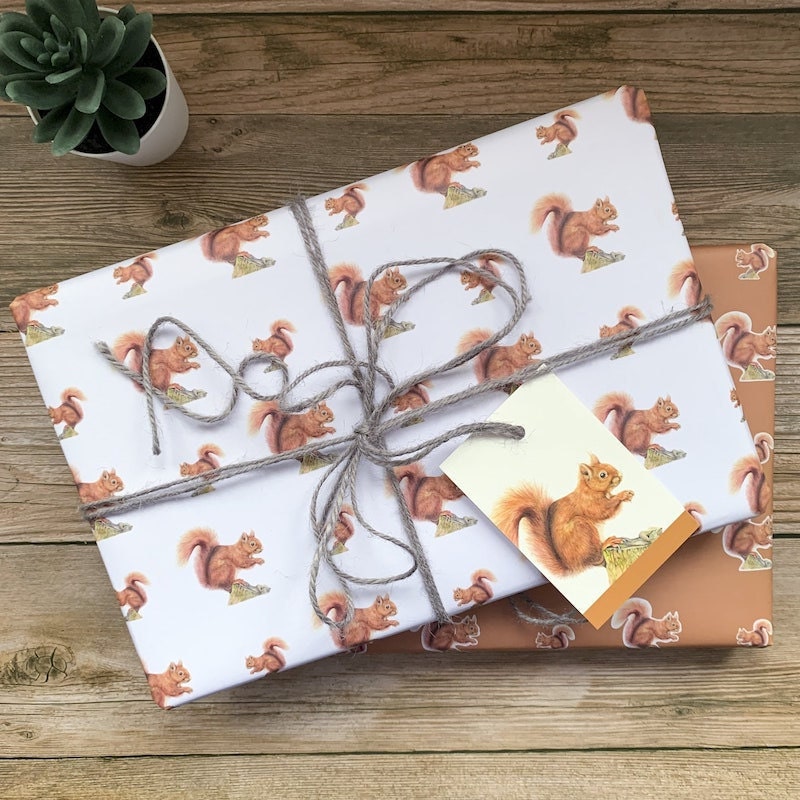 SHOP: Red squirrel thick wrapping paper from JVH creative Fine Art, from $5
Feeling squirrely? Give your gifts a cute woodland vibe with this thick wrapping paper. It comes in sheets that measure about 20 x 28 inches and in a choice of two colors. Bonus: You also get a free matching gift tag to complete the look.
15. Rosemary print wrapping paper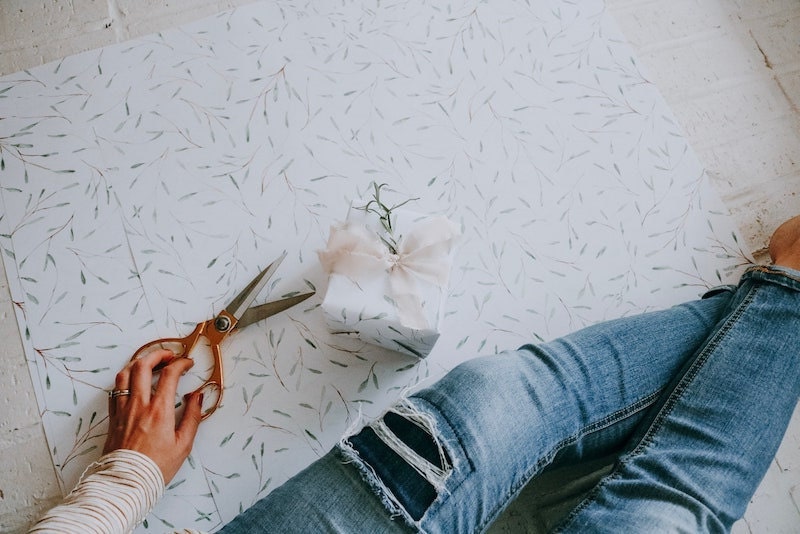 SHOP: Rosemary watercolor wrapping paper from Pearled Paperie, $20
Whether they are saying "I do" or celebrating any other occasion, this thick wrapping paper makes any gift look gorgeous. This set, which comes with five 20 x 29 inch sheets and is printed with a hand-painted rosemary design, is also a fun wrapping choice for foodies. The print is so lovely that one buyer even used it to line their dresser drawers!
To Complete Her Holiday Wrapping
Sumber: https://www.etsy.com/blog/best-wrapping-paper